Cosmetic Dentistry FAQ
We have published a series of responses to questions about the pros and cons of cosmetic dentistry including Implants.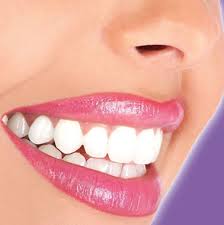 Q: How does tooth whitening work?
A: Tooth whitening gels contain Carbamide Peroxide which is dispensed into the custom fitted trays and worn over the teeth. Gel releases oxygen which penetrates the tooth enamel down to the dentine - lightening without harming your teeth.
Q: How long does it last?
A: Once whitened, your teeth should stay at that colour permanently. Over time your teeth may discolour through drinking, certain foods and the natural aging process, you can simply re-apply the gel to top up the procedure, you can order gel separately from us.
Q: Who can benefit from tooth whitening?
A: Almost everyone. Tooth whitening works best for people who have healthy, un-restored teeth and would like a whiter, brighter smile. Tetracycline discolorations and artificial dental work are usually not greatly responsive to dental bleaching.
Q: Is tooth whitening safe?
A: Yes, this at-home bleaching system is specially designed to be easy-to-use with detailed instructions. Years of research indicate that whitening teeth with Carbamide Peroxide is safe and effective.
Q: Are there any side effects?
A: There are no significant side effects. Some people may experience temporary tooth sensitivity during treatment and others have reported discomfort in the gums or in loose fillings. Gum irritation usually disappears within 1-3 days after beginning the procedure and always upon the discontinuation or completion of treatment.
Q: Do I brush my teeth as usual during the treatment?
A: Yes also you should brush your teeth before every treatment.
Q: Should I avoid food and drink after the treatment?
A: No, this is not necessary.
Q: Should I avoid red wine, smoking and other foods that can discolour my teeth during the treatment?
A: It's not necessary but you will get a faster and better result if you avoid everything that can discolour your teeth after you have performed the whitening.
For more information about implant dental services in London and the Home Counties please visit
Dental Implants For Missing Teeth and Gaps - The Perfect Smile